I've put off this review for a little while now, but as I've got some free time, I've been able to sit down and get to it.
So, I got my hands on a couple of beauty products whilst I was in the Philippines. For me to go three months without any sort of make up is against whatever drives me internally. So, yeah.
Whilst I was there, I got wind of a Korean beauty label called Etude House and Japanese drug store makeup label, Majolica Majorca. I had known that Shiseido released  a sub label that was more affordable and catered to a much younger audience and because of this, I was really quite eager to try out Majolica Majorca. The packaging is cute,  it looked pretty edgy – why the fuck not. I hadn't, however, heard too much over Etude House, but would later find advertising all over the back of buses and hung on the outsides of gargantuan shopping malls.
I took a couple of pictures whilst I was in the Philippines because I knew I would want to review these later on – so you may find a couple of inconsistent photos between Instagram and my SLR.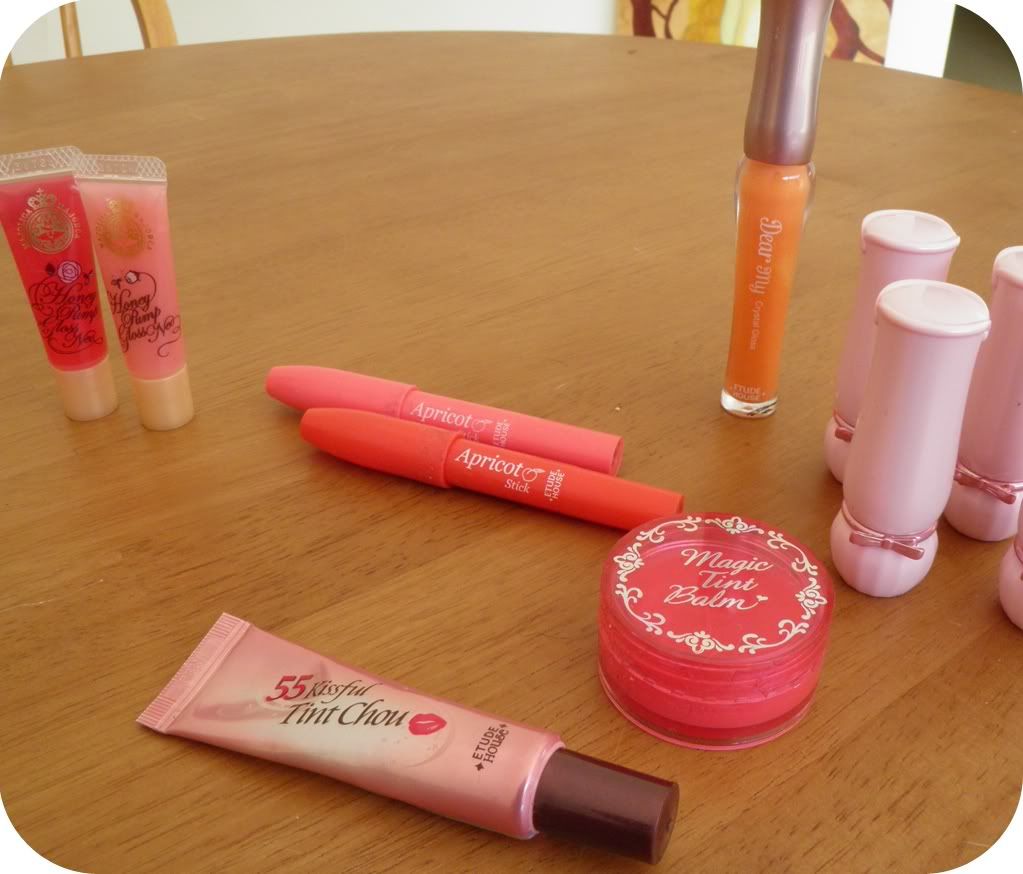 Here is a small subset of the things that I got. Bear in mind I really only focused on lip products whilst I was there because I'm pretty picky when it comes to face products. In total, from Etude I got four lipsticks from the Dear My range, pretty sure that orange lip gloss was a gift to me because I kept going back there to spend my money, the two pencils you see are lip balms (claimed to be tints), one magic tint balm (more gloss than balm), and one more lip tint (Kissful Tint Chou).
To the far left, I only got two lip glosses from Majolica Majorca, they really didn't have too much of a range when I went.
I'll start with the lipsticks.
They had a wide range of colour which is one of the things that attracted me to this range. The packaging was really gorgeous for these too, very pretty and pink. Made me think of high tea, cupcakes and pastel soaps. I DON'T KNOW, I'M STRANGE.
These were okay. They were quite pigmented, I didn't feel like I had to keep layering the product on, going over twice at times became too much. Wasn't a huge fan of the consistency I got off of these. It tends to be a little bit chalky when on – I think this needs a light base of balm. I tend to go over this with my YSL sheer candy to even out the patchy bits.
Below, I trialed out the red that I got. I'm a sucker for blood reds. Hah, get it. No? I'm a loser.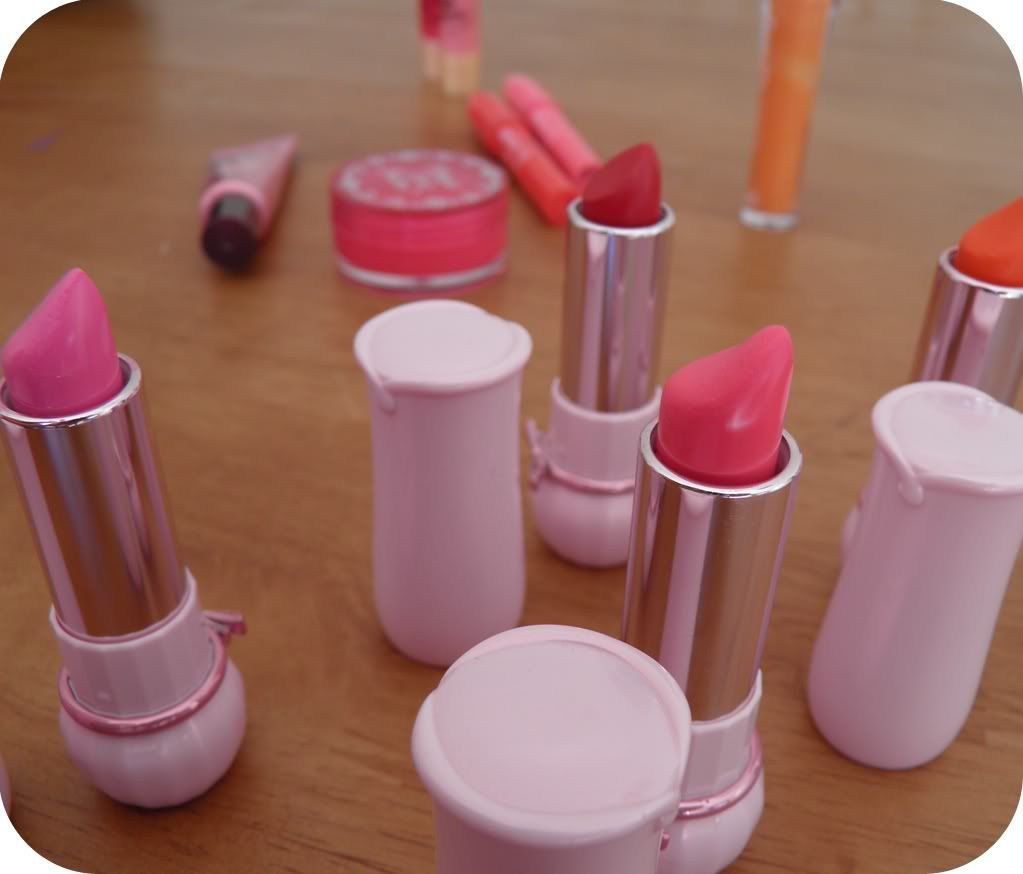 Eh. I'm sort of meh about these. I can't tell you what the colours were called, but as you can see – I got two pinks, a tangerine and a berry red. They're great for what they are – and I love the colours, but they're a little too chalky for my liking. YSL for lipsticks still win me over, hands down. They're smooth to go on, moisturizing and highly pigmented. They're a little bit pricier over the $12 that I paid for the Etude range, but you get your money's worth.
The next item I got (which I forgot to photograph with my SLR), was the Plumping Lip Tint in red. I got it for two reasons 1) it's red 2) it's plumping. The colour doesn't come out as much as I'd hope – but I do still like this product. It's cool to the touch and as weird as this sounds, I really like the wand. Something about bristles. Not sure what it's made out of, but it feels so gorgeous against your lips – so soft and sensual.
The plumping factor of this product is not too bad either – it doesn't feel as harsh as some of the other stuff I've tried. Often you'll find that these products are over powering and have a very sharp mint sting about them. It goes on quite wet instead of sticky, which I ultimately prefer. The plumping action kicks in almost immediately too.
The dear my lip glosses weren't too bad either. Again, my odd fascination with the wand kicks in again – but Etude's wands feel so great on your lips. These were nice. I can't properly comment on colour pigment because I only got the orange which was more of a clear, glittery gloss – you know the type. For what it was, it was a cheap thrill. Which I'm happy with. Let me come our straight and say, I'm more of a lipstick user than a gloss girl.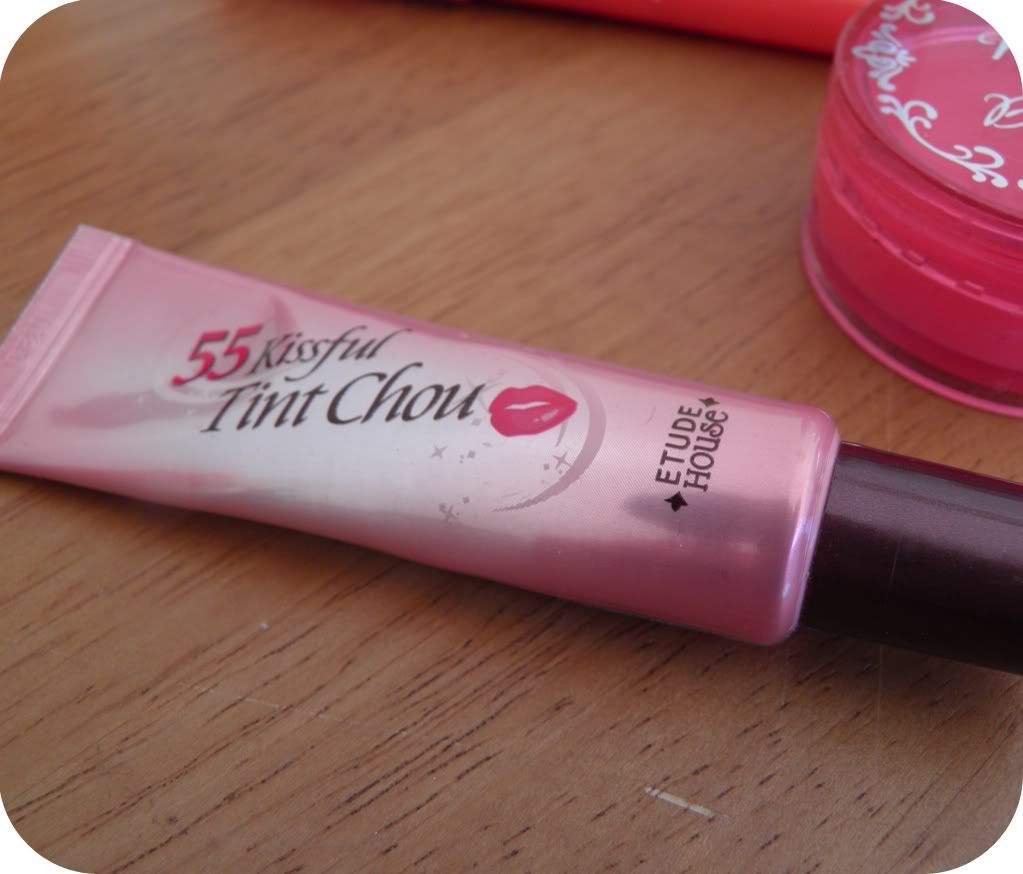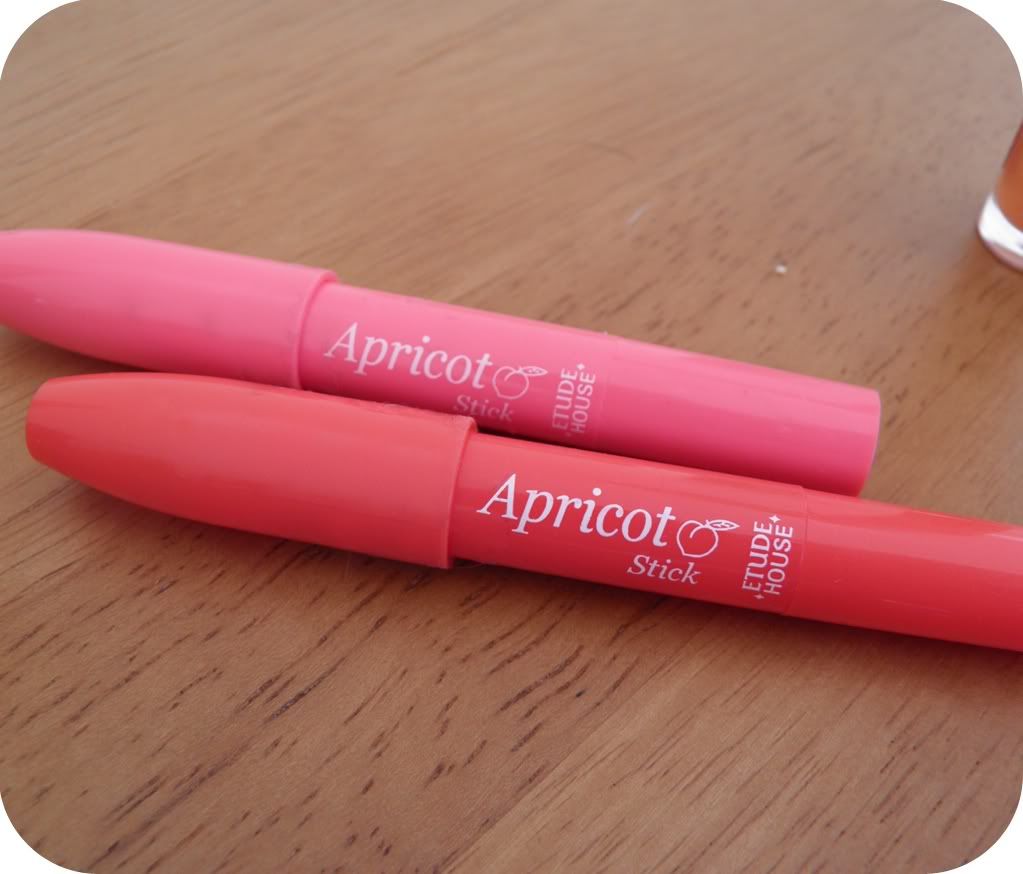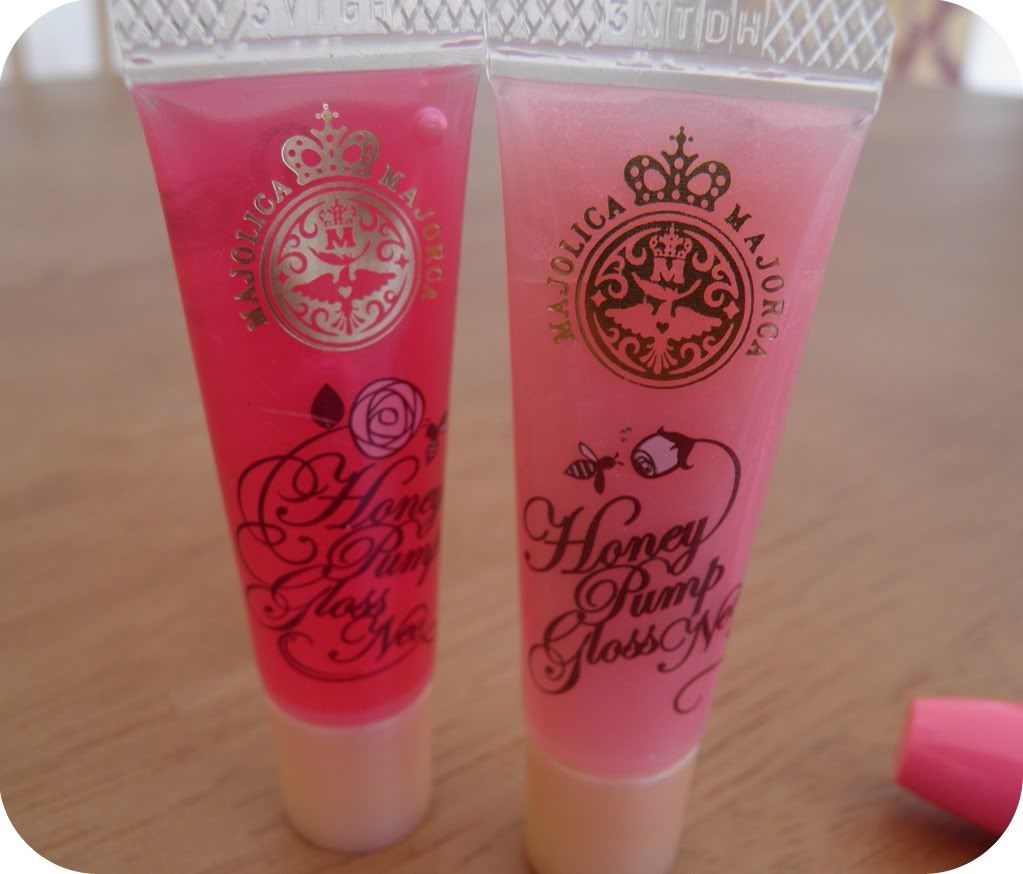 Quickly going across the above – the Magic Tint Balm did come in red, but surprisingly, I didn't get it. The pink worked out okay in the end. Opening it up, your hit with such a rich warm pink – which transfers across quite nicely on your lips. The texture is similar to that of the Plumping tint, but without the mintyness. It's a cross between a gloss and a balm. If you think of  a lip balm pot – think of a lip balm pot that's been in the microwave for five seconds. That's the kind of consistency you're looking at.
The tint chou trumped all the "tint"glosses for sure – it comes out from the tube extremely tinted, not as tinted as say OCC lip tar or Sleek pout paints. I was happy enough with this product that it has a permanent spot in my handbag.
The Apricot sticks? In a word, shit. In two words? Utter shit. They're essentially twist up balms, that leave a tiny bit of colour. But shit.
So the only items on the table here from Majolica Majorca are the Honey Pump Gloss, I probably need to test these out  more before I pass judgement on these. I should probably like lip glosses more before I can justify buying them. Rofl.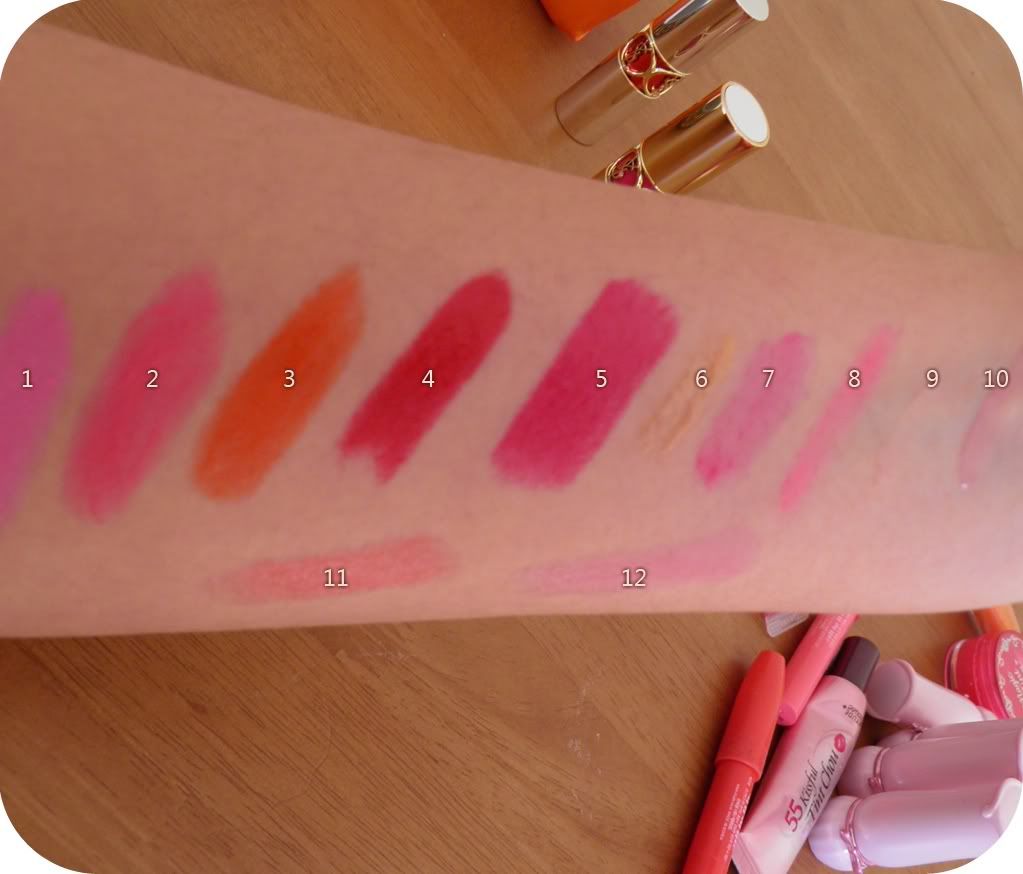 So here's a swatch of all the products (minus the lip plumper):
1) – 4) Dear My lipstick
5) YSL Rouge Volumpte No 11
6) Dear My Lipgloss
7) Magic Tint Balm
8)Kissful Tint Chou
9), 10) Majolica Majorca Honey Pump Gloss
11), 12) Apricot shit Sticks
The reason I threw in the YSL was to compare consistencies, textures and pigments. YSL smoothes on whilst Etude scrapes on – and much more pigment is transferred in one swipe with YSL.
At the end of the day, these products were cheap and I had no make up. I felt that I was let down by some of the products whilst the marketing seemed to promise so much – then again, isn't that what advertising is all about? I had fun testing them out and it was nice being exposed to another beauty label. Meh. I'm a girl. This is what we do. And this concludes my review.
In other news: I've got more skull rings than I know what to do with and I need to write, draw, love more.