I am aware that its been a while. I suck kind of badly. At the moment work has taken such a precedence in my life that all I really want to do when I get home is have a nice big glass of kick ass Moscato and veg out on the couch to catch up with the serial killers on Crime TV.
I am only just finding my zen in things like blogging, fashion and art once again. I'll  be better, I promise!
Anyway, my work place throws a party celebrating it's employees once a year, and every year they (usually) throw on a different theme. This year they have chosen to draw inspiration from the Great Gatsby's latest revival in Baz Luhrmann's epic rendition. I'm actually pretty fricking stoked. I saw the movie a couple of months ago and was blown away – especially considering the fact that I only really went because I wanted to hear Lana Del Rey croon a hundred million times.
The movie was so incredibly… beautiful and movies these days don't normally garner a reaction like that from me. The sets and costumes just blew me away and the time period was so believable. This stuff doesn't always transfer on TV. I left the theatre wishing I could have grown up knowing what life was as a young adult in the roaring 20′s.
Although the above stills are somewhat more contemporary, Luhrmann still managed to capture the extravagance and culture of that era.
The 1920′s was such a glorious buzz of elegance, good times and a flippant disregard for conformity. I've always admired this time period and all that is has contributed to this day and age in terms of style, beauty and the radical changing attitudes of women.
But I digress. After seeing the work announce detailing the party – me being me, I got a tad bit excited and scoured the internet for something appropriate to wear. Now the 1920′s really isn't my era when it comes to the style of dresses, unfortunately. My body is best suited for the 1950′s – I've got a bit of a bust, a smaller waist and a bigger bottom and thighs. An area of frustration and tears as a teenager, I'm actually in love with my body at the moment. It only took me, say… 10 years.
So I look at images of the type of dress from that period and think to myself, "Goddammit ladies, why the hell would you want to hide your waist away like that?!" The 20′s was all about dropped waists and boxy dresses, and as good as contemporary versions of this style looks on other folk, this creates a bit of a problem for us curvier girls!
After trolling through my online haunts for something I could pull off, I put together a bit of a cheat of sorts. I'm not going to wear a flapper dress for the sake of fitting in with the era – I've never ever dressed to do that. I don't think I ever will and neither should anyone else I think. Style over fashion – and hey, the latest movie made this somewhat okay!
This is what I'm going to be wearing: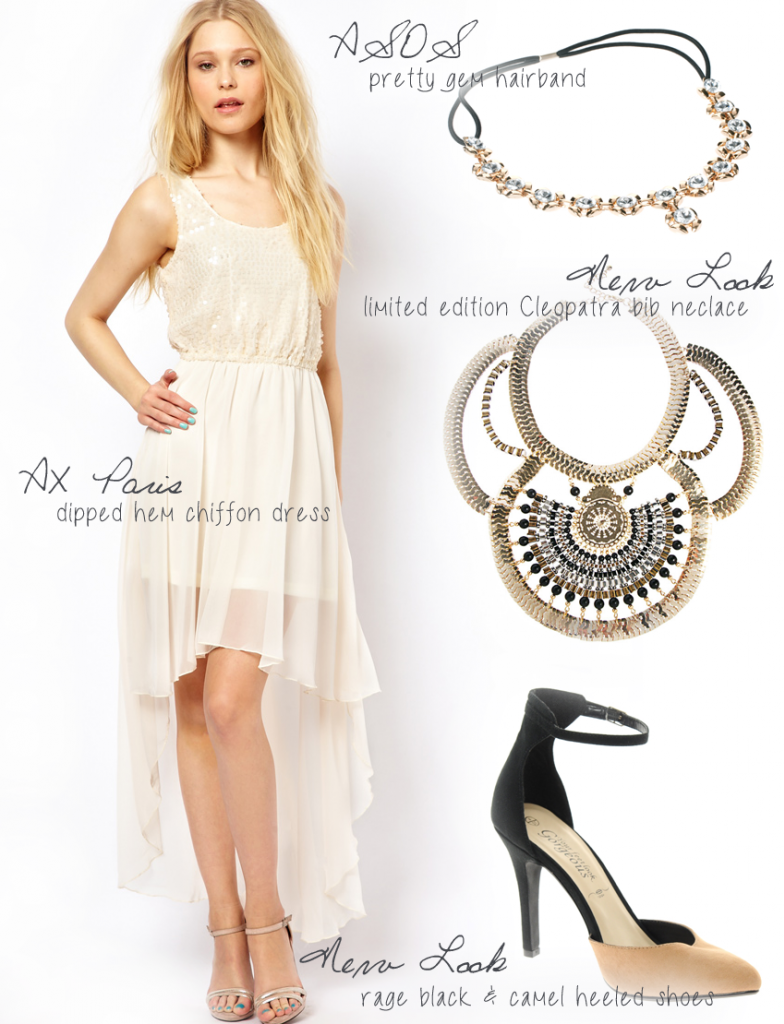 I'll layer up with accessories – thinking a trip to Lovisa for a fuck-tonne of bangles and more necklaces to layer the Cleopatra bib with. I wasn't originally going to go with earrings (my mother always taught me necklace or earrings, not both), but to hell with it. It's the roaring twenties! If I can find some sort of faux fur stole in a cream or taupe colour, I think I'll be set.
Makeup is where I can probably physically go all out on. The 20′s is all about strong looks – severe brows with dark eyes and extremely defined lips. This is my inspiration board so far:
Like I said, I'm pretty excited over this (way more than I should be!), so I'll be conducting a few trials that I'll be putting up to log the process of trial and error.
Until then, ciao!